Event Date: Saturday, April 22, 2023
The annual FREE Health Screenings Day, established in May 2005, is a free citywide event providing many health related screenings, and specialist consultations to the general public including physical, mental, emotional, and financial health. Numerous health care providers and vendors such as the Roper Saint Francis, Molina Healthcare, Walmart Vision Center, Low Country Food Bank, and many more, all work together to provide much needed free medical services to hundreds of annual participants. In addition to medical screenings, there is free food, refreshments, and activities that the entire family can enjoy. This event is open to everyone. If you would like to sponsor this event please email: marketing@thepartnersforabettercommunity.org
Meet Our FREE Health SCREENINGS DAY
Licensed counselors & Psychologists
Burns Counseling Services, LLC
A Multicultural Practice
"Where Healing is Possible"
Delores Alfreda Bolin Burns, MA, LPC, LPC/S, LBSW, NEC, EAS-C
She is a native of Charleston, South Carolina. She has an Associate degree in Public Service, Bachelor of Social Work Degree, Licensed Baccalaureate Social Worker, and Master of Arts Degree in Mental Health Counseling, Licensed Professional Counselor,
Licensed Professional Counselor Supervisor, National Certified Counselor, Certified in Cognitive Behavioral Therapy, Certified Employee Assistance Specialist-Clinical, Dementia Specialist, Certified in Group Crisis Intervention. She has worked in various domains as Clinical Counselor, Intervention Specialist, Community Worker, Early Childhood Specialist, Court Intervention Specialist, Peer Counselor and Group facilitator. She is the former Chairperson for District 20
Constituent School Board, created and developed the Burke Substance Awareness Program (HAP), served on various community boards, such as Trident Technical College and South Carolina Board of Corrections. She is also a certified facilitator for Stewards of Children-Darkness to Light, Fetal Alcohol Spectrum Disorders, Facilitated the Prevent Course for the US Navy, and Substance Abuse Prevention Programs. She is a Victims Advocate, a Volunteer with American Red Cross Disaster Mental Health Unit. She was deployed to two National Disasters, one in New York during Hurricane Sandy and other in Colorado for the Landslide Disaster. She has Professional Affiliations with American Counseling Association (AEA), the National Association of Social Workers (NASW), and the Christian Mental Health Network (CMHN). She has over
40 years of experiences in the Human Services Profession.
The mission of Burns Counseling Services, LLC is to improve people's lives by providing relevant and effective counseling services that promote healing for
the mind, body and spirit.
She provides Individual Counseling, Group Counseling, Family Counseling, and Couples Counseling. Some areas of specialty include: Depression, Anxiety, Health Education, and Interpersonal relationships. She also provides annually Empowerment Workshops for Men and Women (Men's Workshop B years and Women 's Workshop for Byears). Heal the Healer Workshop for both men 0- women, Girls Night Out, and has sponsored Mental Health First Aid Training, and conducted Leadership Trainings. She recently passed The National Clinical Mental Health Examination. She has been married to John H. Burns for the past 30 years. They have one daughter, three grandsons and three great grandchildren in Atlanta, Ga. She is also an Elder in rotation at St. James Presbyterian Church USA, where she is the leader of Women's Church School Class. She is the former Christian Education Director for Greater Beard's Chapel AME Church. Her hobbies are reading, cooking,
gardening, dancing, and comedy. She believes love and forgiveness heals.
"god will always put people in your path to help you"
Human Services & Counseling
Dr. Shanelle Fields is a native of Florence, South Carolina. Her education includes a BA in English Education from College of Charleston, a Masters in School Counseling from the Citadel Military College, and a PhD in Human Services and Counseling from Capella University. From 2002- 2020, she was a middle and high school English teacher and a Professional school counselor. In November 2018, she completed her supervision to become an LPC and has opened a private practice in Summerville. Dr. Shanelle works to help others who are struggling with issues of self-esteem, grief, anxiety, and depression. Due to her love of education and counseling, she has given many presentations, speeches, and motivational messages to encourage others. Her proudest accomplishment is raising her son as a single parent, working full-time and completing her doctorate. Dr. Fields knows what it is to be in a "stuck place." In July 2021, Dr. Fields wrote a #1 Amazon Bestselling Book entitled "I Am Enough." This book is a self-reflection and motivation for women and young ladies who are feeling undervalued and passed over. More recently, she became an International Bestseller for being a co-author of the book entitled "Women Motivated by Purpose." This anthology seeks to motivate others to live life with purpose. Additionally, Dr. Fields founded The Healing Group, which is a Black directory of mental health professionals. For further inquiry, the website is www.thehealinggrp.com
Her mottos are "Every day you have the chance to change two people's lives, yours and someone else's and to always remember You Are Enough! If you would like to connect with Dr. Shanelle, she can be emailed at takingthe1ststep31@gmail.com. Her practice website is www.takingthefirststep.net

DR. DEIDRE JOYNER, LPC, M.Ed
REDISCOVER YOU COUNSELING SERVICES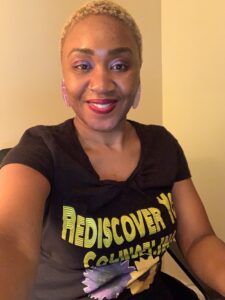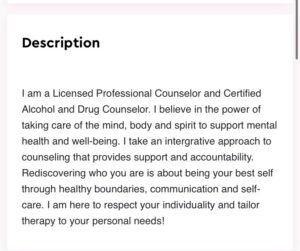 Nickie Rogers, MAH, MACP
Serenity Counseling Services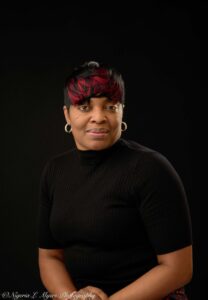 My name is Nickie C. Rogers. I am the owner of Serenity Counseling Services and Pathway to Serenity Case Management in Sumter, SC. I have a Bachelor's Degree in Health Administration, Master's Degree in Health Administration, Professional Counseling and Psychology. Currently pursuing Doctoral Degree in Behavioral Health. I have three children: Saccorea Addison-Price, Jaicvovell Rogers and Tyquan Rogers. I have four grandchildren: TaLiyah, Kaiden, Jaxon and Jalen. I care about people, their emotional health and well-being. I enjoy helping people navigate their complex worlds in order to live a healthier, vibrant happier life. I believe in holistic approach (mind, body, and soul). All components of our lives are interrelated.
I specialize in helping individuals and families who have experienced trauma. I help individuals interested in achieving personal growth. Assisting individual dealing with Anxiety, Depression, Domestic Violence, Family Violence, Grief, Self Care, Self-Esteem Issues, and Women's Issues. Through strength-based, holistic approach, I strives to help individuals achieve goals they have in mind for themselves. My wealth of knowledge and personal challenges I have endured in life compliments my experience and ability to help others.
During my spare time I enjoy traveling, sight-seeing, eating and spending time with my children, grandchildren, family and friends.
Meet Our FREE Health SCREENINGS DAY
Physician Assistant
Eric attended our very own, Berkeley High School – Go Stags!
He attended Physician Assistant School at Hahnemann University (Drexel University) located in Pennsylvania.
Eric has also served in the military where he received medical training.
He is committed to teaching future PAs and NPs from MUSC every year.
Eric is interested in General Preventive Care, Pediatric / Adolescent Care, Management of Diabetes, Hypertension, and Hyperlipidemia, Obesity, and Acute Care.
He enjoys running marathons, weight lifting, playing softball and kickball. He has three of the greatest grandsons in the world – Royce, Elijah and Donovan Jr.