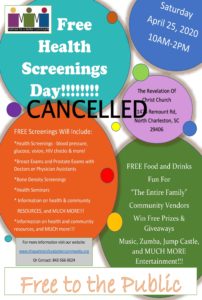 Event Date: Saturday, April 25, 2020
*Due to COVID-19 virus, the FREE Health Screenings Day has been cancelled as we are not equipped to handle health issues that may be related to the virus*.
The annual FREE Health Screenings Day, established in May 2005, is a free citywide event providing over 50 different health related screenings, including pediatric screenings, and specialist consultations to the general public. Numerous health care providers and vendors such as the Roper Saint Francis, MUSC, and Miller Motte Technical College all work together to provide much needed free medical services to hundreds of annual participants. In addition to medical screenings, free food, refreshments, and activities the entire family can enjoy are provided. This event is open to everyone. If you would like to sponsor this event please click on the sponsorship link.
Meet Our 2020 Health Day Fair Physician Assistant
Eric attended our very own, Berkeley High School – Go Stags!
He attended Physician Assistant School at Hahnemann University (Drexel University) located in Pennsylvania.
Eric has also served in the military where he received medical training.
He is committed to teaching future PAs and NPs from MUSC every year.
Eric is interested in General Preventive Care, Pediatric / Adolescent Care, Management of Diabetes, Hypertension, and Hyperlipidemia, Obesity, and Acute Care.
He enjoys running marathons, weight lifting, playing softball and kickball. He has three of the greatest grandsons in the world – Royce, Elijah and Donovan Jr.